Remembering Marie Pearthree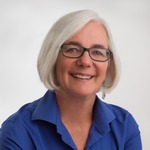 The WRRC joins the Arizona water community in mourning the loss of Marie Pearthree, who died on February 22, 2023. Marie Slezak Pearthree was born on December 17, 1955, in Indianapolis, IN. After traveling widely with her family to various State Department postings, she attended Oberlin College in Ohio, majoring in Geology, and later went on to earn an MS in Geosciences from UArizona and become a Professional Engineer (Civil). During her 40-year career in the water industry, she held several influential positions, including with Pima County, the City of Tucson, and the Central Arizona Project (CAP). She received the City of Tucson Public Service Excellence Award in 2003 and the George Warren Fuller Award from the AZ Water Association/American Water Works Association in 2018. 
Pearthree retired from CAP in 2016, continuing her involvement with water and using her 'free' time to research and co-author a book with Mike McGuire. Her personal experience as Deputy Director of Tucson Water helped inform the book, "Tucson Water Turnaround, Crisis to Success," about the turmoil surrounding the introduction of CAP water to the Tucson area. In November 2020, she was elected to represent Pima County on the CAP Board of Directors, following WRRC Director Sharon B. Megdal's final term on the board. The CAP Board will be honoring Pearthree at their next meeting. Of Marie Pearthree, Megdal said, "Marie was highly regarded as a water professional and as a person. The water community will miss her contributions and friendship."
A celebration of Marie Pearthree's life will be held on April 29, 2023, from 10 am – 1 pm at Contigo Latin Kitchen (3770 E. Sunrise Dr., Tucson). Her family suggests any memorial contributions be made to the scholarship funds that Marie established in 2021 to support geoscience students: Pearthree Geology Fund, Oberlin College. You may leave a personal message or share a memory at Marie Pearthree Obituary.