Speaker(s)
Mark Apel
Environmental Projects Coordinator, Cochise County Engineering and Natural Resources
Mary Ann Capehart
UA Water Wise Program, Retired
Taylor Simmons
WRRC Outreach Assistant & MS EHS student
Water scarcity challenges in Cochise County have spurred various water management solutions and collaborative efforts over time. In 2022, the WRRC partnered with Cochise County Cooperative Extension to develop a Water Factsheet that helped to distill major challenges and solutions, as well as lay out the basics of water supplies and demands. We are excited to follow up and partner with presentations from the local experts to share the expanded stories of Cochise County water. This WRRC Seminar Series presentation will begin with a discussion about the historic election that was held on November 8, 2022, on whether to designate the Douglas Groundwater Basin as an Active Management Area (AMA), yielding the first citizen-initiated AMA designated on December 1, 2022. Digging into some of the factors that led to the new Douglas AMA, including high rates of land subsidence, there are many unknowns about the future of the AMA to be determined by ADWR with input from local stakeholders. The second story will focus on exemplary and longstanding water management efforts within the county, specifically the Cochise Conservation and Recharge Network (CCRN). This collaborative partnership was established to implement tangible water management projects that will increase water availability to meet current and future water demands in the region. Local and federal partners have joined forces to develop innovative projects for a resilient water supply for both people and nature along the San Pedro River. These projects are designed to work together to help sustain San Pedro River flows and the groundwater on which our local communities and the river depend.
Mark Apel, an environmental projects coordinator for Cochise County, has over 40 years of natural resources experience, both here and abroad, and has worked in multiple positions over the last 32 years dealing with water issues and the San Pedro River. He has a BS in Environmental Resource Management from Penn State University and a master's in International Affairs from Ohio University.
Mary Ann Capehart retired in early 2022 as a coordinator for the Water Wise Program, UArizona Cooperative Extension, Cochise County. Her passion project was and is large-scale, domestic rain harvesting. Capehart spent much of last year working for groundwater reform as a founding member of the grassroots Arizona Water Defenders PAC in Cochise County. She currently works in Flagstaff at Coconino Community College and resides at the Kadampa International Buddhist Retreat Center. Capehart received a master's in Education with an emphasis on Environmental Education from UArizona.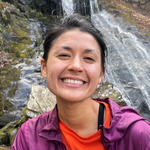 Taylor Simmons received her BS in Biology from Maryville College and is a master's student in the Environmental Health Sciences program at UArizona. In her current research, she is analyzing the effectiveness and barriers to implementing point-of-use and point-of-entry treatment devices. Simmons joined the WRRC team in 2022 as a Graduate Outreach Assistant and Peace Corps Coverdell Fellow.