Where
Speaker(s)
Adriana Arcelay
Doctoral Student, University of Arizona
Blase Lasala
Grad Student, Northern Arizona University
WRRC Water Webinars: 104(b) Student Research Presentations:
Assessing the Impact of Climate Change on Localized Flooding and Affected Populations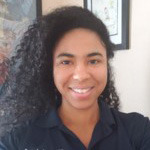 Climate change effects are seen and felt by local and regional populations. These effects negatively impact the community due to loss of property and loss of life. The groups most impacted are minority groups due to their location, resources, and integrity of their infrastructure. Many studies predict flood patterns with an increased influx of water; not many show the communities or groups affected by these flood patterns. This research analyzes how increased precipitation due to climate change affects flooding patterns of cities. A Flo-2D model was used to create flood inundation maps of areas of interest. To understand flooding impacts in an area, a range of events were run in the Flo-2D model. Once the inundation maps were created, they were overlain with demographic data. This mapped out the groups most affected by flooding and overall climate change.
Adriana Arcelay is originally from Miami Florida. Upon completing her undergraduate degree at the University of Michigan, she moved to Tucson for her graduate degree. She enjoys the Tucson winters and unique food.
Three-Dimensional Characterization of a Deep Karst Aquifer Beneath the North Rim of the Grand Canyon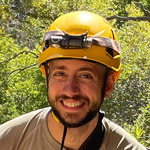 For Grand Canyon National Park and some adjacent tribes, karst-fed springs are currently the sole source of drinking water. Previous studies on the north rim of the Grand Canyon show that annual snowpack on the Kaibab Plateau is an important driver for spring discharge. Dye tracer and other studies indicate the presence of a complex network of fractures and conduits that can efficiently transport groundwater over large distances in timeframes of days to months. However, the recharge areas and flow paths snowmelt takes from the sinkholes on the plateau to the springs in the canyon are not well understood. These unknowns raise questions about the aquifer's vulnerability to climate change and contamination. To better delineate sensitive areas of recharge and predict flow regimes, we characterized hydrologic parameters from within the aquifer directly. In the Fall of 2022, over 10 km of hydrologically-active cave passages were mapped using a mobile lidar scanner, enabling extrapolation of joint sets, bedding planes and faults from the Redwall and Muav limestones from within the Kaibab Plateau. These data were integrated with aerial lidar from the surface, and other studies to develop a three-dimensional hydrogeologic model of the Kaibab Plateau aquifer system. These findings illustrate how subterranean features mapped within hydrologically-active caves relate to regional geologic structures. Our results identify data gaps, indicate areas of interest for future research, and provide a powerful interactive and interpretive tool for visualizing complex karst systems.
Blase LaSala graduated with a BS in Geoscience from the University of Connecticut and worked as a physical science technician for the National Park Service before earning a Master's in Mining and Geological Engineering from the University of Arizona. Most of his research has been devoted to better understanding karst landforms using high resolution spatial and temporal remote sensing data. Blase is currently pursuing a PhD in EcoInformatics at Northern Arizona University, made possible through a National Science Foundation Research Traineeship (NRT) and a CESU agreement with Grand Canyon National Park.